* 3m/Oracal Brand 10" Mustang Precut Racing Stripes 2005 - 2009
Click To Enlarge
Our 10" 3m Brand Precut Mustang Stripe Kit includes precut panels for the front bumper, front valance, rear deck, and rear bumper plus 20 feet of 10" striping for the hood and roof for only $99.99. The kit can be ordered WITH or WITHOUT a separate roll or sheet of pinstripes. (60 ft)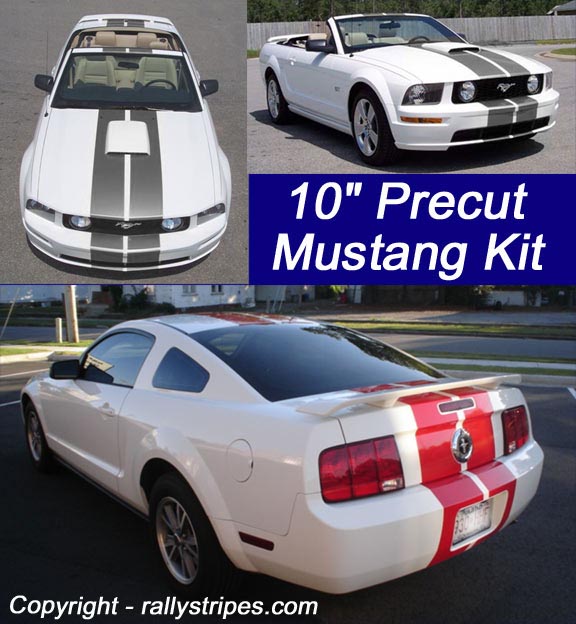 All of our stripe kits are cut from our amazing wet application vinyl. (3m Series 50 - 6 year vinyl) This means that the stripes can be applied using soapy water much like window tint is installed. This makes it easy for anyone to install stripes on their car. The mild soapy water has no adverse affect on this vinyl.

YOU HAVE YOUR CHOICE OF WHITE, BLACK, MATTE BLACK, SILVER, RED, PINK OR MEDIUM DARK BLUE. Click on the link below to see our colors. Select your color using the drop down window below.

This is the width that you will see on most 2005 - 09 Mustangs.

Here is what you will receive:

1. Precut panel for the front bumper plus a small piece for the valance. (bottom of the air dam) Cut for the GT but can be trimmed to fit the V6 model also. You can either trim around the tag area or cut it straight at the front edge of the bumper.

2. Precut panel for the rear deck. Goes from the rear window around the brake light and gas cap. Fits both GT and V6 models.

3. Precut panel for the rear bumper. Fits both GT and V6 models.

4. 20 feet of 10" wide striping for the hood and roof. YOU WILL CUT THESE TO FIT. This gives you more flexibility and makes the kit easier to install. It also gives you extra material for the spoiler, etc.. It also allows me to sell this kit for far less than anyone else.

The stripes are designed to be spaced apart about 2 inches.

You will also receive instructions and a squeegee.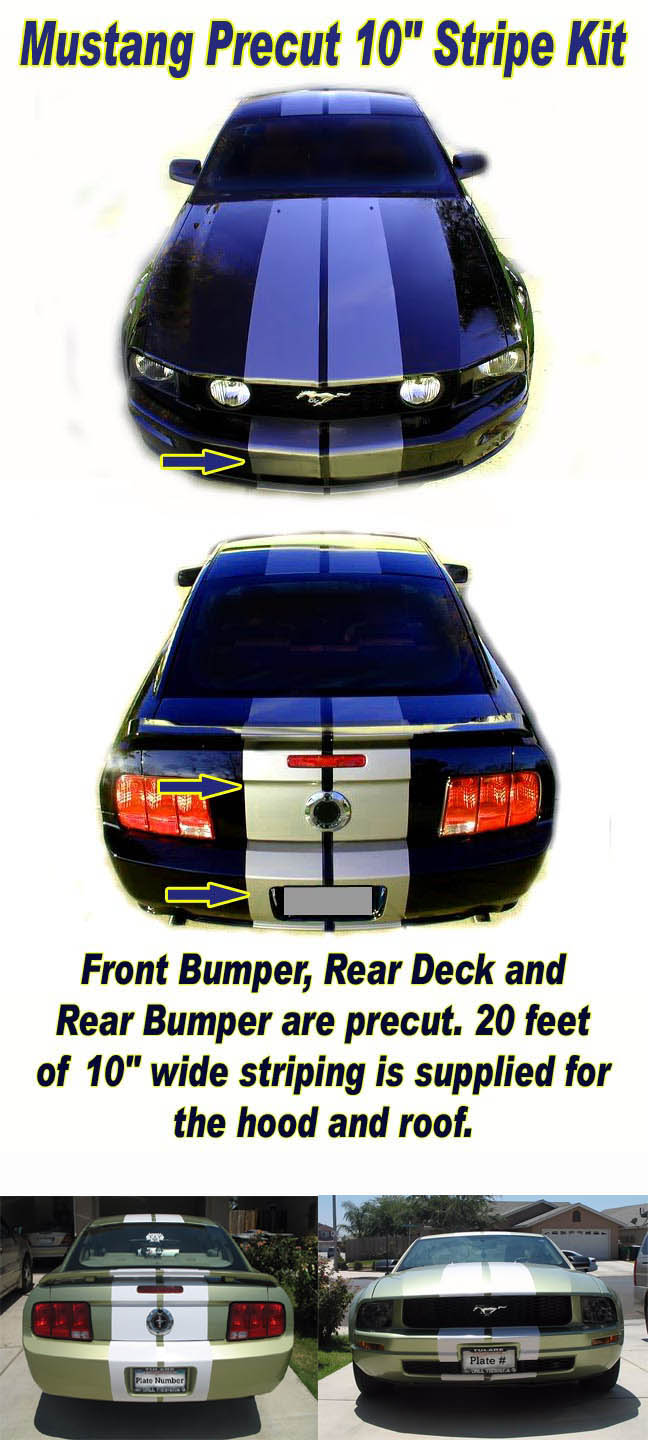 RALLY STRIPE INSTALLATION INSTRUCTIONS - Install in a dry, wind free area. To install our stripe kits first take a pair of scissors and cut the roll striping into the lengths you will need for the hood and roof. Make sure to cut each piece a little longer than the section you are striping. Keep these sections dry and set them aside.

Remove any emblems that may get in the way of the stripe. (replace them after the stripes are applied)

Clean the application area with rubbing alcohol.

After the car is clean, mix in a spray bottle 20 ounces of water, 1/4 teaspoon of unscented clear liquid JOY and 1/2 teaspoon of Isopropyl Alcohol. (if you do cannot get clear liquid joy any dishwashing liquid will work)

I normally find the center of the car and then take a roll of masking tape and run it from the front to the back of the car. This will serve as a guide for lining up the stripes.

Once I have marked where the stripes will go I spray the car with soapy water and then I peel off the backing and spray the adhesive side of the first stripe with the soapy water as well. Position the stripe where you want it and slide it into place. For longer sections is it nice to have a second person help out. For the precut pieces I normally start at the top and work my way down the stripe. As long as the stripe and the car are wet with the soapy water you can work with the stripe. Keep the stripes you are not working with DRY.

Once the stripe is where you want it you simply squeegee it on. Spray a little soapy water on the stripe to allow the squeegee to glide over the stripe without scratching it. (wrapping the squeegee in a soft cloth will also protect the stripe from scratches) Repeat this process on all stripes and then trim any excess vinyl away with an exacto knife or razor blade. The precut pieces should require no trimming. Don't worry, if you make a mistake and need a replacement piece I can send you one for a small fee plus shipping.

TIP - for bumpers and other curved areas use a hair dryer to heat the material. This softens the vinyl and helps it to conform.

CLICK HERE FOR MORE DETAILED INSTRUCTIONS.

CLICK HERE TO SEE OUR 3M COLORS.


You can order online with a credit card or paypal. You can call 850-934-3157 with any questions.

Click here to see more pictures of our 10" kit

Click here to see more pictures of our 10" kit